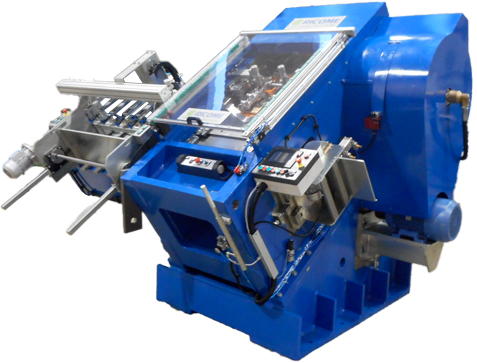 SPECIAL PROJECT
STRIP FEED PRESS – DOUBLE DIE 153 mm (603)
We are pleased to inform you that RICOME will be present at METPACK 2017 in this coming May 2-6, we sincerely hope to meet you at Hall 3.0, Booth 3B10 (HOCHBACH GMBH) to talk about our last project END MAKING LINE for double 153 mm (603).
END MAKING MACHINES
Over 30 years of experience and success in providing end making systems, we develop, design, build and install superior resistance end making machines for a variety of applications specific to the can making industries. The range of products includes single end making machines as well as comprehensive, turnkey end manufacturing systems.
High and medium speed end making systems, one supplier one solution for end making: machines (scroll shearer, strip feed press, compound liner, pockets drying oven, bagging station ), tooling, installation, start up, all in one.
END MAKING SERVICE
Several services are available as the design of the production line layout according to the needs of the customer, the installation of production line, the start-up, the staff training, all these services are available upon request, together with purchase of complete lines as well as single machines, always with a fast and efficient after-sales service.
Our technical staff will guide your production, maintenance staff at our premises through a full training program, our training program includes production set-up, maintenance procedures, fault finding, visiting local end making factories where we are present by our machines.
MACHINE UPGRADE
Machinery overhauling and upgrade, we receive second hand machinery from end makers and make them working and reliable again by an overhauling with replacement of all worn mechanical parts/components, -fitting new lubrication unit, new pneumatic components, new electrical panels, or by an up-dating with installation of a new concept of strip feeding which has been developed under the name of PICK AND PLAY SYSTEM already successfully installed on different strip feed press models like BLEMA PKXD 40.3, BLISS 1831, CEVOLANI PD 20, CEVOLANI PD 90, CEVOLANI PDV 94, FMI 1221, FMI A 701, FMI A 702, KARGES HAMMER P 4, KARGES HAMMER P – 250, MB 314, ZAGO.
We offer several different level of upgrades as per customer requirement, complete tear down and rebuilding of the machine, replacing all parts and components, new central pneumatic lubrication, new electrical panel with PLC and inverters, or semiautomatic machine to be converted in a fully automatic machine in order to increase the output and to decrease the operators, or machine to be upgraded by clutch conversion, central pneumatic lubrication system, customized guard package, conversion of PLC to newer or more efficient technology which is a fast and cheap way to increase efficiency, longevity and most important, safety of the machine.
All our customers are invited to visit our facility at any time in order to check the progress of the works and not only to observe but also to contribute to the project on the basis of mutual satisfaction, on machine ready for delivery we use to invite our customers to attend a working trial at our workshop, it guarantees that machine leave our workshop in perfect working order.